Features
NIST-traceable calibration certificate
Multi-function 4.5 digit liquid crystal display with 0.500 inch numerals, backlit for use in poor light conditions.
Measurements displayed in inches, inches/microsecond, millimeters, and meters/second.
Measures from 0.025 to 6.000 inches (0.60 to 150.0 millimeters) - switch to select English or metric units.
Four readings per second for single point measurements.
8 pre-set velocities and 2 custom velocities
Ability to change between velocities without the use of computer software
5 Year Warranty
IP 65 Rated
Velocity Settings
TI-25SX has 8 preset velocities and 2 custom velocities. User can customize for specific applications or tune the calibration to be optimized for a specific type of material. Press the "MATL" key to toggle through velocities (see below).
The List of Preset Velocities include:
Aluminum 2024 (0.251 in/µs)
Stainless Steel 303 (0.223 in/µs)
Steel 4340 (0.233 in/µs)
Cast Iron (0.179 in/µs)
Plexiglass (0.106 in/µs)
PVC (0.094 in/µs)
Polystyrene (0.092 in/µs)
Polyurethane (0.070 in/µs)
Custom 1
Custom 2
Note: Custom 1 & 2 are set using the PC software (free) & downloaded to the gauge using the optional, p/n N-306-0010 data cable.
10 User-Selected Material Types
Each time the "Matl" key is pressed, the material type (calibration setting of the acoustic velocity) changes from one type to the other. The abbreviations, description and sequence is shown below.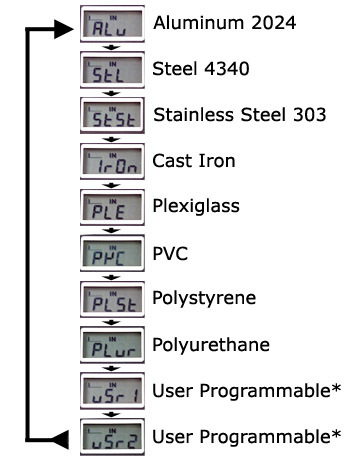 *Note: If the Custom 1 & 2 are needed, they are set using the PC software (free) & downloaded to gauge using the data cable (optional, p/n N-306-0010) 
Technical Details
Range in Steel
0.025-6.00" (0.60-150.0 mm) Will vary in other materials
Resolution
.001" (0.01 mm)
Velocity Range
0.0120 to .7300 in/μs. 305 to 18,542 meters/sec
Dimensions
2.5" W x 5.17" H x 1.25" D (inches)
Display
4½ - Digit, 0.5" Backlit LCD
Probe
1/4", 5 MHz Dual Element Transducer, actual wearface is 5/8" (17 mm)
Probe P/N: T-102-3300
Cable
4 ft. (1.2 m) waterproof cable with non-polarized, quick-disconnect connectors. Optional lengths up to 50 ft. (15 m).
Temp. Limits
Ambient: -20 to 120° F (-30 to 75° C)
Material:  0 to 200° F (-20 to 100° C)
Special high temperature probes are optionally available.
Battery Type
Two AA batteries.
Battery Life
45 hours continuous use.
Weight
11 ounces (308 g)
Accessories Included
Probe/cable assembly. 4 oz. bottle of coupling fluid, NIST Calibration Certificate, 2 AA batteries, operating instructions, hard-plastic carrying case.
Warranty

Gauge

: 5 Years


Probes

: 90 Days
Measuring Limits
| | |
| --- | --- |
| Minimum Radius for Convex Surfaces | 0.350" (8.89 mm) |
| Minimum Radius for Concave Surfaces | 3" (76.2 mm) |
| Minimum Headroom | 1" (25.0 mm) |
| Minimum Sample Diameter | 0.150" (3.8 mm) |